Title:VETSports as a tool to embolden Veterans transitioning back into civilian life
Author:news.VA.gov
Date:September 2022
Source:U.S. Department of Veterans Affairs &copy 2022, Reprinted with permission
Volume:Volume 3 Issue 191
Courage, resilience, teamwork. Those words are ingrained into the fabric of VETSports, an organization that dubs itself "The Official Home of Sports for Veterans."
VETSports is focused on improving the physical, mental and emotional health of Veterans through sports, physical activity and community involvement. The non-profit group has provided thousands of former service members with opportunities to reintegrate into their communities through sports, community service, events and partnerships.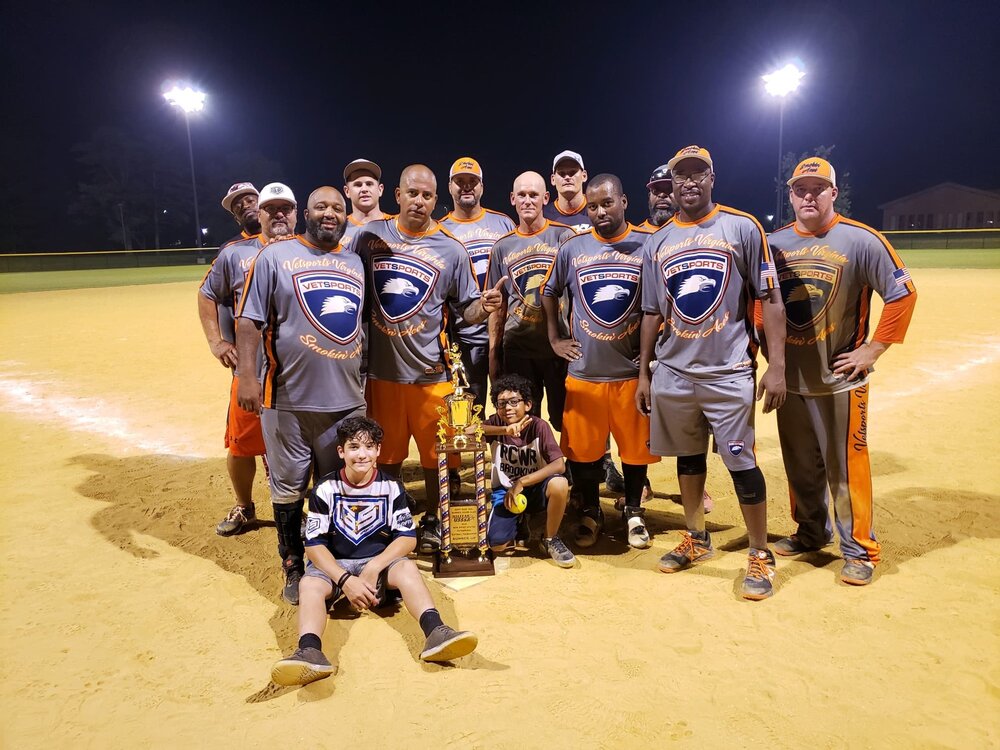 All VETSports chapters are led by volunteers
The organization makes a special push to help transitioning Veterans find their footing in civilian life after being accustomed to the rigors of the military and the traumatic experiences that it can present. VETSports supports active-duty military to Veterans at any reintegration stage.
"It's really all about getting them reintegrated in their hometowns with a team of Veterans in a different uniform," VETSports President Randy Tharp told VA's Veterans Experience Office. "VETSports is Veteran-driven, so all of our chapters are volunteer-led and member-based. [A Veteran] goes to the chapter lead and says, `I want to do softball,' or `I want to do flag football or golf,'" he said. "VETSports provides the means and resources to do that. We pay for uniforms, league fees, equipment. As long as Veterans are participating in an active way with their teams, we find that that provides the most value."
VETSports maintains a series of core services. They include a program aimed at helping athletes who are pursuing a professional sports career, whether in bobsledding, archery, or any other sport. VETSports also has a scholarship-internship program to help Veterans as they go through school so, for example, they can potentially manage a team at their university or serve as a coach. VETSports will provide a stipend to help these Veterans pay for school.
First responders can also participate
In VETSports' S3 program — Students Sidelines Support — the organization helps Veterans who may need help financially. Many Veterans are on fixed incomes and may need help with daycare, bill paying and other necessities. "We also provide that as an approach to get Veterans back active," Tharp said.
Membership in VETSports is free. Veterans can join online and get connected to a local chapter leader in their area. The organization has 35 chapters around the country, and any Veteran can launch a chapter in his or her community. VETSports provides the necessary resources, including the budget, to get kicked off. "Usually, chapters start as a team that may already be in place like softball or flag football," Tharp said.
All Veterans are eligible to participate.
"We even let our first responders participate," Tharp said. "A lot of police officers, firefighters are Veterans themselves, so it's just kind of a natural fit for us to come together. We also include them in that, too. And active duty, as well. We have a lot of active military participants around their bases."
A Veteran does not need to be disabled to participate in VETSports.
"We don't try to ask those questions," Tharp said. "A lot of wounds are invisible, and I think just being part of a team, part of a group, part of a community is therapy in itself."
VETSports, he added, is accommodating to Veterans who are not sports-oriented: "It doesn't have to be sports. It can be any physical activity we want to help with. We have community walks, community jogs. We're open just to get Veterans back engaged."
Veterans can also check out VA's sports and creative arts opportunities available through the Office of National Veterans Sports Programs and Special Events.
The sharing of any non-VA information does not constitute an endorsement of products and services on the part of VA. Veterans should verify the information with the organization offering.